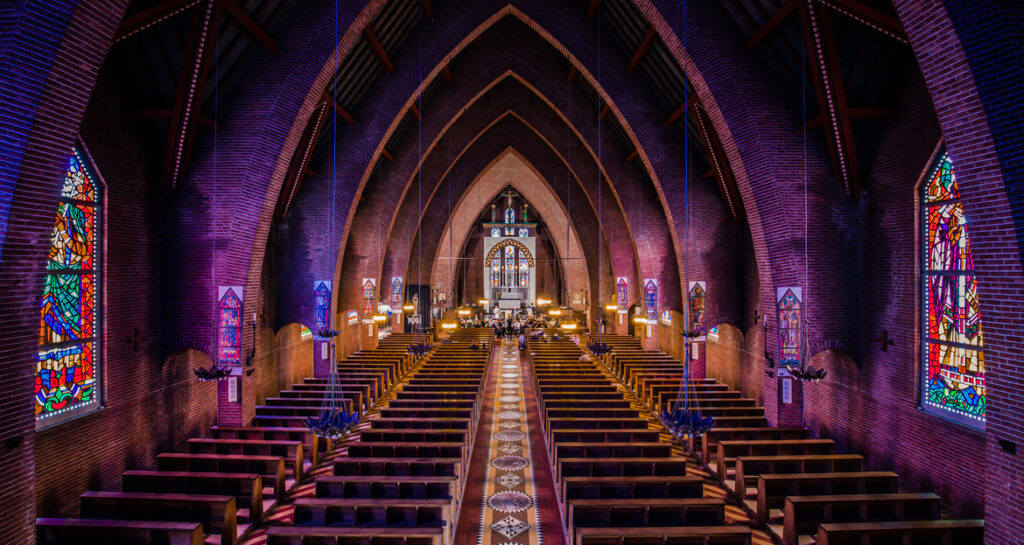 We naturally want to celebrate this event with a festive session at the church on Friday, Sept. 1, at 7 p.m.

The restored windows will be inaugurated and several speakers will highlight the history of the mining cathedral with a particular focus on restorations.
Also opening of the 10-day photo exhibition (from Sept. 01 through Sept. 10).
The whole thing will be graced by Jean Bosco Safari.
Exhibition "church and church life in and around the church of Beringen-Mine"
'Citévolk spreekt' collected unique old photographs of highlights in the church year: baptisms, communions, confirmations, golden and other weddings, funerals, processions, Christmas and Easter celebrations, Italian and Polish celebrations …
After its construction in 1943, the building already underwent several restorations. Last in line is the unique restoration of the stained glass windows in concrete, unique in Europe.
This, among other things, is portrayed at the exhibition. The mine cathedral was recognized as a heritage site in 1985.
Opening hours:
Saturday, Sept. 2 and 9 from 1 p.m. to 6 p.m.
Sundays Sept. 3 and 10 from 1 p.m. to 6 p.m.
Group visits are also available for organizations during the first week of September. Request via email: 80jmijnkathedraal@scarlet.be
September 10, 2023 is also monument day and mine happening.
To mark this day, ECRU Heritage is providing a beautiful series of
postcards – will you discover the 80-year-old mine cathedral of St. Theodardus in Beringen-Mijn?
Organization: church council Beringen-Mine and Citévolk Speaks, in cooperation with Italian and Polish church community